Karena itu rendahkanlah dirimu di bawah tangan Tuhan yang kuat, supaya kamu ditinggikan-Nya pada waktunya. Serahkanlah segala kekuatiranmu kepada-Nya, sebab Ia yang memelihara kamu. -1 Petrus 5:6‭-‬7 TB
Saya dulu sering membayangkan ayat ini seperti gambar di bawah sebelah kiri. Kalau kita sombong dan tidak merendahkan diri, maka tangan Tuhan yang kuat akan menekan kita. Kepala nongol dikit, tanganNya bersiap menghantam.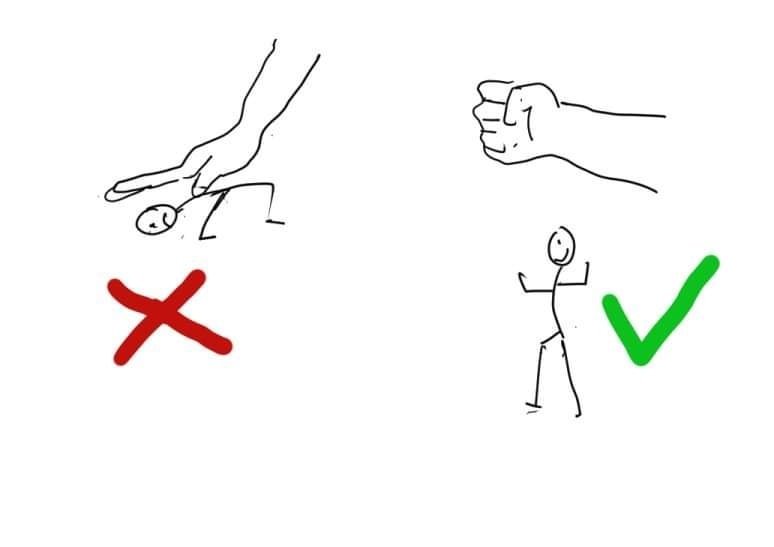 Tapi hari ini saya dibukakan.
Tangan Tuhan yang kuat adalah tangan yang membela kita. Kekuatannya mengatasi segala kelemahan dan masalah kita. Tangannya yang kuat mengangkat, meninggikan dan memelihara kita.
Itulah sebabnya kita dapat menegakkan kepala kita, dengan percaya diri tegap berjalan menghadapi semua masalah dan tantangan karena tanganNya yang kuat menaungi kita.

Under the mighty hand of God
Therefore humble yourselves under the mighty hand of God, that He may exalt you in due time, casting all your care upon Him, for He cares for you. (1 Pet 5:6-7)
I used to imagine and perhaps continue imagining it subconsciously, the condition under the hand of God, is like the left picture. We have to keep ourselves humble, else God's mighty hand will crush me. Keep bowing. As soon as you lift up your head, the mighty hand will press you down.
Today's sermon frees me.
The mighty hand is the hand that will exalt me. It is the hand that fights for me and cares for me.
Under the mighty hand of God is knowing that his mighty hand will defend me all the way, lift me up in due time. So we can stand up, lift up our head with confidence, for His mighty hand is above me.